Xentrix foi uma banda de Thrash Metal Britanica criada em 1986, começou como banda cover do MetallicA, lançaram 5 álbuns, devido a indiferença do público e brigas internas a banda acabou em 1993.
Em 2006 eles voltaram com a formação original para alguns shows com o Onslaught e Evile, porém logo separaram denovo e disseram que nunca mais haverá outra reunião do grupo.
Para conhecer a banda clique na música que estiver em negrito de cada álbum abaixo.
1989 - Shattered Existence

01. No Compromise
02. Balance Of Power
03. Crimes
04. Back In The Real World
05. Dark Ene­my
06. Bad Blood
07. Reasons For Destruction
08. Position Of Security
09. Heaven Cent


1990 - For Whose Advantage?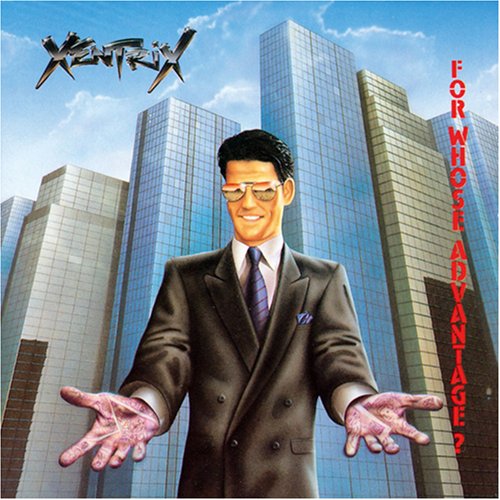 01. Questions
02. For Whose Advantage? 
03. The Human Condition
04. False Ideals
05. The Bitter End
06. New Beginnings
07. Desperate Remedies
08. Kept In The Dark
09. Black Embrace
10. Running White - Face City Boy

1991 - Dilute To Taste

01. Pure Thought
02. Shadows Of Doubt
03. Balance Of Power
04. Kept In The Dark
05. Crimes
06. Ghostbusters [Ray Parker Jr. cover]


1992 - Kin
01. The Order of Chaos
02. A Friend To You
03. All Bleed Red
04. No More Time
05. Waiting
06. Come Tomorrow
07. Release
08. See Through You
09. Another Day


1996 - Scourge
01. 13 Years
02. Scourge
03. Incite
04. Caught You Living
05. Strengh Of Persuasion
06. Never Be
07. The Hand Feeds Itself
08. Blood Nation
09. Creed
10. Breathe